Over 'Mare en de dingen' – in Engelse vertaling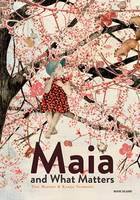 Mortier's text is unusual, interesting and rather rambunctious––just like her characters. It carries the story in a no-nonsense way through the intricacies of Maia's relationships, and the ways in which she deals with the disasters which befall the people that she cares most about. The use of reverse-indented, bold text to represent Maia's thoughts and comments is particularly effective––it provides a window into the child's mind. And Mortier pulls no punches. When Grandpa dies, her text is sympathetic, symbolic and straight to the point––'Grandpa had broken a teacup and stopped living.'
Wat ben ik hier ongelofelijk blij mee. Lees de volledige recensie op de site van Stephanie Owen Reeder. 10/11/2013
En hier is er nog eentje:
Tine Mortier harnesses the strong, feisty young character of Maia in few words. In fact, she sums up the essence of Maia's personality in one of the best openings to a picture book I've come across.
Deze is van het Australische My Book Corner. Check it out!